I am blessed to have a mother-in-law who is very much a child at heart. She spends a lot of time with my children, and one of the things that they enjoy doing together is telling stories. She is a fantastic storyteller and often tells funny stories about her childhood growing up in Manhattan in the 30's and 40's. They also enjoy making up round robin stories together. A round robin story is a story where one person starts a story, then "passes" the story to someone else who tells some more, then "passes" the story on, etc. They all laugh hysterically at the silly stories they make up.
I mention this because it is the first thing that I thought of when I received WriteShop story builders to review.
I received the World of Animals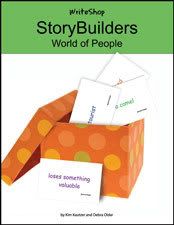 and the World of People.
These Story Builders are a fun supplement to any writing program. Each book contains 4 types of cards: character, character trait, setting, and plot. These can be printed in black on 4 different colors of card stock or paper, or they can be printed in 4 different colors on white card stock or paper.
There are a variety of ways to use the cards. The student can pick one of each type of card and use the situation as the beginning of a story to write. The students can do a "round robin" story passing their stories back and forth. They can be used to tell stories to each other. It would even make a fun activity for a long trip in the car.
My 5th grade son was not content with just one situation. He drew 5 of each type of cards and decided to write a short story from 20 cards. Here is his creation. The colors are the colors of the words on the cards so that you can see some of the variety of words in the World of Animals set.
Once upon a time, there lived a rat. He was eating food in the pantry when his best friend disappeared. "He could have been stalked by a cat, or invaded by owls!" he thought. He began to get very curious. He looked under the couch, but all he found was a lazy turtle. "This calls for some real investigation!" the little rat said as he got into his car. On his way out he met a mean looking man in disguise. After a while he saw a talkative kangaroo that was stuck in a hole in the ground. Deep in the jungle, the critter found an obnoxious panda bear. Finally, he found a clue…
It's certainly not fine literature, but it did provide a fun opportunity for him to practice writing. He might actually continue his story making up the rest. (That's really more the purpose of the cards, but I have to pick my battles.) He enjoyed the exercise and will be excited the next time I ask him to use the cards.
Both The World of People and the World of Animals Story Builders are available as e-books from the WriteShop website for $7.95 each. For more reviews on the WriteShop Story Builders go the TOS Homeschool Crew Blog.

By Kristen H.
Comments & Responses