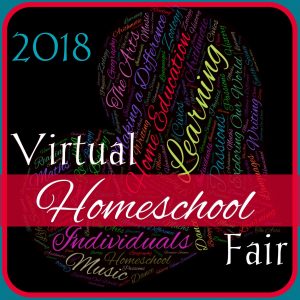 Welcome to Week 2 of the Virtual Homeschool Fair. This week's topic is Our Method of Homeschooling.
When I consider the many years of homeschooling we have already done, and the many years we still have to go, I like to relate our adventure to a really long road trip. Just like a road trip, you have to start somewhere or you will never get anywhere. In addition, just like a road trip much of the fun happens along the way, so don't make your homeschooling adventure just about the destination. So as I look in the rearview mirror of what has been our homeschooling road trip thus far, here is what I see.
Disclosure: This post contains affiliate links. If you make a purchase after clicking on the link, I will receive a small percentage of the purchase price.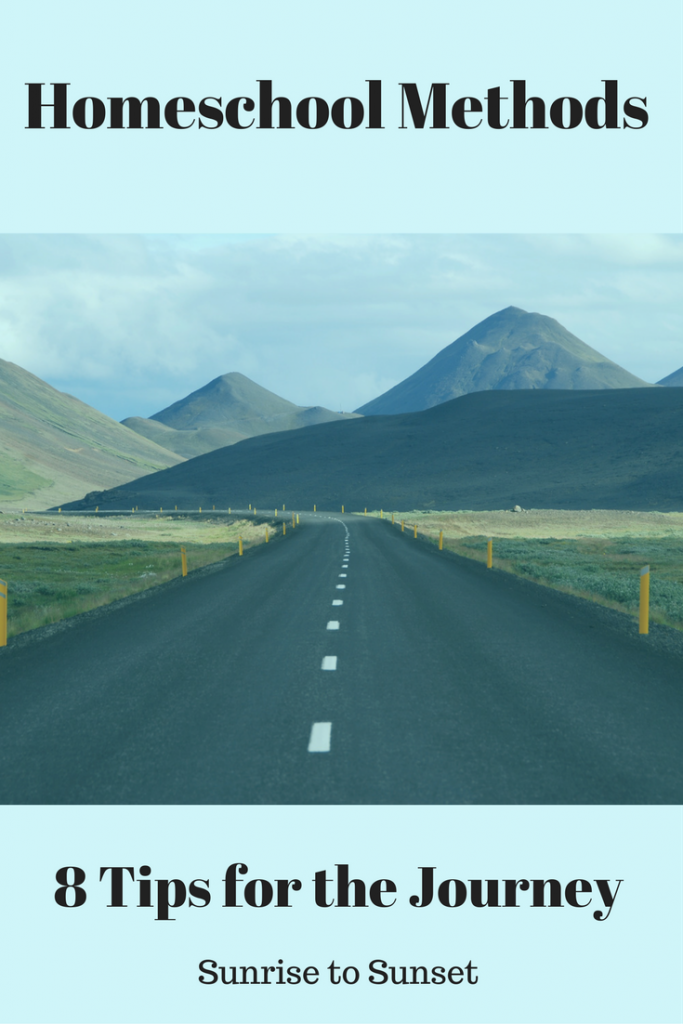 1. Choose a Direction
I count 2003 as the official start of our homeschool, the year that my oldest son started kindergarten. But I had been researching and studying homeschool methods and curriculum for quite a while before jumping in. I was always a good student and for the most part, I liked school. However, I was never interested in a "school at home" approach to schooling. I didn't want "boring" textbooks. I was initially drawn to the idea of a literature-based approach (i.e. Sonlight). I pored through the Sonlight catalog and could hardly wait to start reading all those great books so we purchased most of the preschool collection. At that time, there wasn't a schedule (Or if there was I didn't buy it.) so it was just a collection of really nice books to read.
2. Keep looking at the Map (Never Stop Researching)
After deciding on Sonlight, I joined several Sonlight Yahoo groups. (Boy, I'm really dating myself!) I'm fairly certain that it was on those groups that I begin seeing people referring to combining Sonlight with the Well-Trained Mind. Here was something else to look into! I bought The Well-Trained Mind and read it cover to cover. Classical Education became our new plan.
3. Don't Be Afraid to Take a Detour
In those early years, we used many Well-Trained Mind recommended resources like Story of the World and First Language Lessons. (I'm actually using these two resources again with my youngest.) We started Latin. I thoroughly read The Well-Trained Mind forums daily. My two older children were progressing through the curriculum fairly well.
4. Join AAA (Find Support)
Then I heard about Tapestry of Grace (probably in all my reading on the WTM forum). After one pass through the 4-history cycle using Story of the World, it was time to start over. The recommendations in the Well Trained Mind for the dialectic stage in history were not appealing to me, and I loved the concept of multi-level teaching in Tapestry of Grace. In addition, there was a small group of families wanting to start a Tapestry of Grace Year 1 co-op. Sign us up!
5. Take a side trip if it looks promising (Keep an Open Mind)
Right around that same time, I found another way to feed my curriculum addiction. I become a member of The Old Schoolhouse Homeschool Crew. As a member of the Crew for several years, I received many products to review that I never would have considered trying. Three of those that are now on my short list of all-time favorite curricula are All About Spelling, Memoria Press Latin, and Institute for Excellence in Writing.
6. Take a U- Turn when it's necessary (It's OK to Admit Defeat)
Our co-op only lasted one year, and I wasn't able to maintain my dedication to Tapestry of Grace without the accountability of a group to stay on schedule and to keep us doing activities. Another problem we had with Tapestry of Grace was the discussions. Discussions are an integral part of the program for older students and my oldest was really not interested in having them. Forcing discussions like that just doesn't work. So while I loved the idea of Tapestry of Grace, it was not a good fit for our family at that time with my very techie, analytical son.
7. Allow your family to engage in different activities while on the road
As we moved into high school, I shifted to the very thing I wanted to avoid at the beginning. Textbooks. I found that with college on the horizon, there were some subjects that just needed to get done. Ideally, we would have enjoyed time learning together as a whole family. But realistically I had to admit it wasn't going to happen. We didn't have the personalities suited to that, and I didn't have the time to make it work. We began to seek more and more outside classes for our teens. My daughter who is graduating this spring has taken all of her classes during her junior and senior years either with other homeschoolers or at community college. So during high school, I have become the overseer of my teens' education, but not actually their teacher.
8. Keep the Road Trip Going (Revisit favorite places with younger children)
This year, I'm graduating my second student. But I still have one student just starting high school, one student starting middle school, and one in the first grade. I am going to be repeating this process more than once. This year, our two youngest joined a classical co-op. I have loved the having the accountability to stick to the schedule for both myself and my daughter.  If I had to pick one constant thing about our homeschool method, it would be change.
What do my fellow homeschool bloggers have to say about their Homeschool Method? Go visit them to find out!
How Our Academic Co-op Completes Our Eclectic Homeschool by Susan @ Homeschooling Hearts & Minds
A Method to Our Madness by Michele @ Family, Faith and Fridays
Finding Our Homeschool Method by Christy @ Unexpected Homeschool
How We Homeschool by Amanda @ Hopkins Homeschool
Give Us…. by Annette @ A Net in Time
A day in our Home by Sarah@DeliveringGrace
Lit-Based Education: How We Homeschool by Debra @ Footprints in the Butter
Overhauling Our Homeschool – Adjusting our "How" to fit our "Why" by Sabrina Scheerer @ Kids, Crunch, and Christ
A Day in the Life of a Homeschooler: Expectation Vs. Reality by Leah @ As We Walk Along the Road
How Charlotte Mason Transformed Our Homeschool by Brittney @ Mom's Heart
Captain's Log, Supplemental – Our Homeschool Days by Kym @ Homeschool Coffee Break
How we get it done. by Kim @ Good Sweet Love
How to Organize Daily Curriculum with the School Cart by Jeniffer @ Thou Shall Not Whine
Learning For LIfe by Lori H @ At Home: where life happens
Eclectic Homeschooling: When It All Comes Together by Jen @ A Helping Hand Homeschool
A Typical Day? by Lizzy @ Peaches@Home
This is the Way We Do Our School, So Early in the Morning by Laura @ Four Little Penguins
A Little of This and a Little of That: Eclectic Homeschooling by Laura O @ Day by Day in Our World
Still Classically Educating After All These Years by True North Homeschool Academy
So what exactly is Life Led Homeschooling? by Dana @ Life Led Homeschool
The way we learn ~ 2018 Virtual Homeschool Fair by Jacquelin @ A Stable Beginning
Our Homeschool Routine by Joelle @Homeschooling For His Glory
By Kristen H.